Heron sail number 10310
SOLD
Click on any of the photos to get a larger image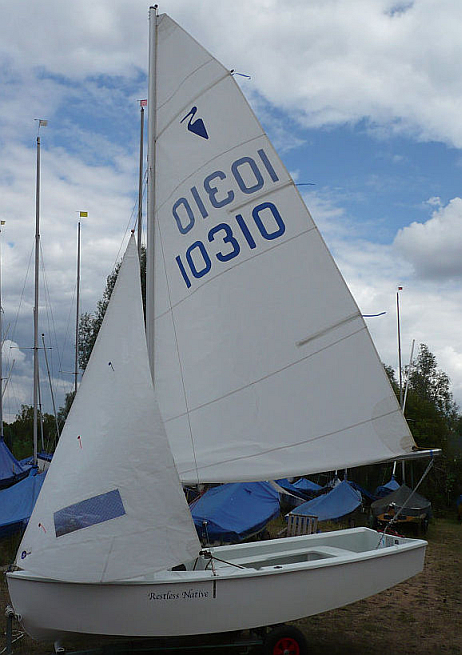 SOLD Private sale
The Heron is a sailing boat about the same size as a Mirror dinghy, with similar performance. They are two-person boats but are often sailed single-handed. There is an active Class Association, which provides information about the class, organises national races, etc. Like the Mirror, they can be rowed or take a small outboard. See http://www.heron-dinghy.org.uk. They have quite a roomy cockpit for their size, with good headroom and are very stable and forgiving.

This Heron was built in 2008 by Butler Boats, the official builder of FRP Herons. (www.butlerboats.biz) It has a Bermuda rig. The foresail is more of a genoa size, rather than a jib and the sails are still crinkly. The boat is white, with a slightly different shade for the deck to avoid dazzle. As you can see from the photos, it is in good condition The cover is the boom-down type. I bought it in March 2009 from a private seller and I'm selling it because I'm changing to a single-hander. (Lightning 386)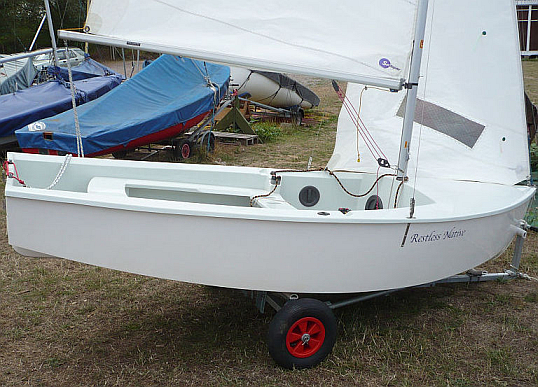 Click on any of the photos to get a larger image

Rudder



Click on the photo to get a larger image of the rudder.

You can see a repair at the edge of the rudder. If you'd like to look at it more closely, click here
I've put a two pence coin there to show the size of the repaired part.

Transom flaps



Someone asked about the transom flaps. This is the best photo I have at present - I'll be able to get a better one if anyone needs it.
Click on the photo to get a larger image of the transom flaps.


Launch trolley




Click on the photo to get a larger image of the launch trolley.
And if you want it ...
I also have an elderly combi trailer - road base and trolley - which the buyer can have for free if you need it to get the boat home. I've used it for shortish journeys - about 25 miles and back but I don't know how it would be for a long motorway journey. I don't want to advertise it as part of the sale as it's not very impressive - it's not worth very much, it just seems to be a home made one and I don't know how good it is. The trolley part needs some padding (carpet or similar) to protect the boat.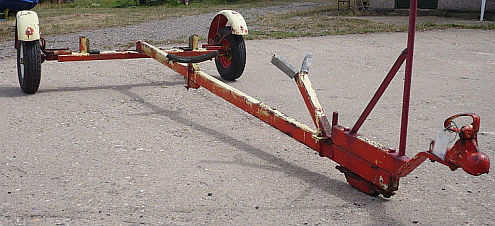 Road base




Launch trolley



This is the launch trolley that goes on the road base to form the combi-trailer.





The boat is in the Maidenhead area, near Junction 8/9 of the M4. This is about 10 or 15 miles to the west of Heathrow Airport.

All the information is supplied in good faith but I'm not an expert, so you'll want to do your own inspection. Let me know if there's anything else you need to know so you can decide if you want to come and have a look at it.

Brian Low Telephone 01628 485001